Upcoming Unofficial Reunions
Currently there are two unofficial reunion events for 2018.
2018 represents a big milestone as our class is now 60 years old. We are hosting one e unofficial reunion during Summerfest and another at Tosa Fest, either Friday, Saturday, or even both nights..
Summerfest 2018 - July 1. See info posted below. We can add another date if there is enough interest from the class.
Tosa Fest 2018 - September 7-8
Check back for more info as it becomes available and for more possible unofficial reunion news.
Getting Notifications
Are you interested in getting notified when there is an upcoming unofficial? If you have already submitted your email to us you should be already getting them! They are sent automatically to our Google Group. So if you're not on that list, here's a great reason to submit your email! Simply contact us.
Summerfest 2018

On Sunday, July 1st, Gene Hanson and Debbie (Hetzel) Hanson will be hosting an unofficial Class of '76 reunion at Summerfest. This is both an unofficial reunion and it's completely informal. There is no need to RSVP. You can show up on the spur of the moment. However, if you think you be able to go, please send an email to Gene Hanson as we're wondering how many people might attend.
This is the second date this year because our first (on June 29th) was pretty much a bust due to the 95 degree temperatures. There's no reason other dates can't be considered because Summerfest runs June 27-July 1, and July 3-8. We just need someone as the "official" organizer. Please contact Gene Hanson for details.
How it works
We will have 3 designated meeting times with locations marked on the map. Click here or on the map for a larger view. We will stay at that location for at least 30 minutes and then the group can decide if they want to go somewhere else. Then we will meet up at the next meeting time and location. If you are having difficulty finding us or are a little late, you can call or text Gene (262-269-9576) or Debbie (920-723-4121).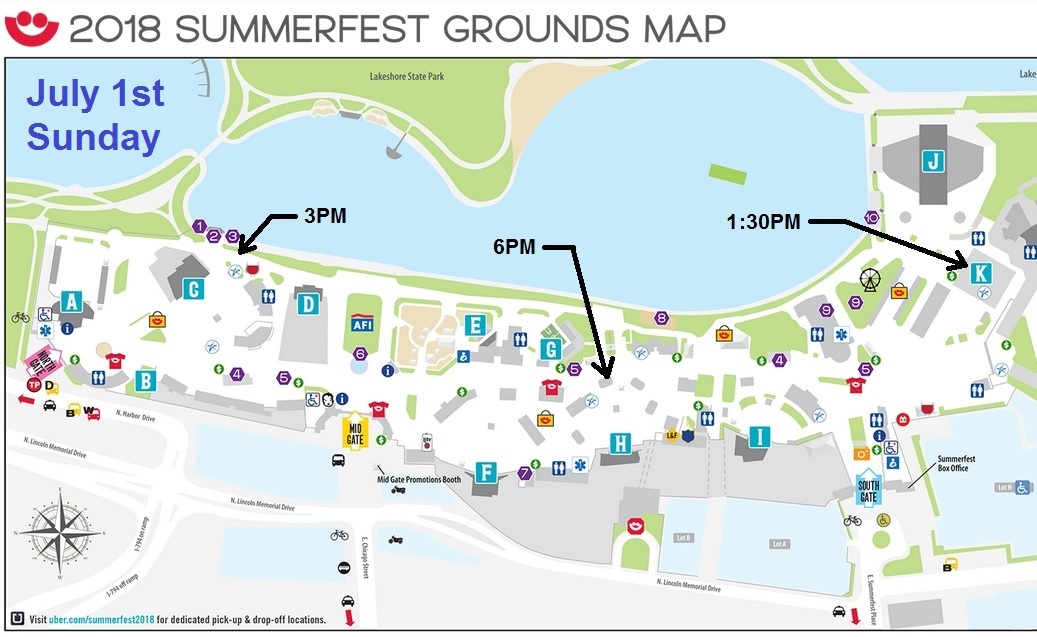 Meeting Times
1:30PM - JoJo's Martini Lounge (in the big tent)
3:00PM - US Cellular, close to the Lake to avoid the loud music.
6:00PM - Harley-Davison
Entire Summerfest Grounds Map. Click here or on the map for a larger view. For more information about Summerfest, visit their website here: