20th Reunion
The 20th Reunion took place on July 13, 1996 (Saturday night) at the Quality Inn at the airport. On Friday there was an informal get together at Colonel Hart's (the former Pep's Place), a tour of Tosa East on Saturday morning, and on Sunday there was a picnic at Hoyt Park.
For the event, our classmate Patty Ulschmid produced a simply wonderful booklet that contained all the pictures of our classmates, contact info, and a bunch of other stuff as well. Though we have considered scanning that booklet for publication here, we are hesitant because of all the personal information it contains.
Event Pictures
The organizers of this reunion hired a company that specializes in school pictures and they both photographed the event, and had a station for classmates and their spouses to sit for pictures. The resulting book has been scanned and you can see it below.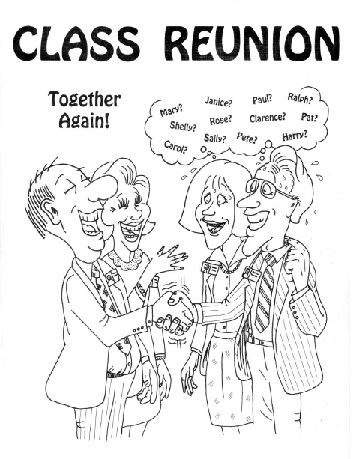 At this time there are only a limited number of pictures from the 20th. The pictures below have all been supplied by Mary Kay Luedke and Anne Feirstein. There may be more pictures, but since this was before the digital age they may be in the proverbial shoe box. If anyone has any pictures from any of the events that you care to share, please contact us. If you don't mind sending the originals, we will scan them for you and return those originals.
Attendees
The 20th reunion was well attended. On Saturday night there were 169 classmates! Here is the list of attendees that night.
Gerry Abshire
Eric Adolpson
Dan Alberts
Elizabeth Alexander
Barb Aspinwall
Sue Babb
Kurt Barany
Glen Barkow
Sue Baumann
Debra Bergold
Liz Bischoff
Mark Borkowski
Cathy Borth
Sandra Boubonais
Jamie Bowden
Tom Boyle
Lee Braem
Steve Braun
DeAnn Broich
Tracy Brooks
Lisa Carlson
Ann Carpenter
Parry Cartier
Danita Cole
Kathy Conole
Sally Cox
Jean Crabtree
Kathy Crowley
Mike Day
Mary DeGraaf
Nancy Doberstein
Pat Downey
Elizabeth Duchelle
Carla Durand
Anne Eichner
Paul Eisenhauer
Jeff Ferguson
Louise Flick
Peggy Foley
Abigail Forbes
Renee Frey
Sue Gagen
Mary Galko
Art Gamsky
Gloria Garcia
Sue Garney
Janis Gaulke
Judy Godar
Mark Gostisha
Jordy Gransee
Judy Grimm
Sue Grottveit
Jeff Hackett
Gail Handschke
Gene Hanson
Juliann Harley

Linda Hasselberger
Heather Hawtrey
Ronald Hayek
Mark Heard
Debbie Hetzel
Sue Hiller
Mary Hillstrom
Marce Hoffmeister
Katie Hofstede
Sarah Hope
Gerry Horaitis
Diane Houriet
Pat Hunt
Randy Hunt
John Jackson
George Karioris
Susan Kelsall
Eileen Keyes
Rosi Kijak
Marc Kilburg
Sharon Kilmer
Dave Klibowitz
Carol Knauer
Geraldine Kraatz
Cindy Kraemer
Heidi Kuenzi
Susan Kwak
Nan Larson
Kevin Leahy
Maureen Leahy
Sandy Lebesch
Cindy Legg
Rob Lennon
Kathy Leslie
Ken Leslie
Jon Levenhagen
John Lichty
Mary Lindl
Richard Lipscomb
Sally Loper
Mary Kay Luedke
Denise Machi
Joan Marotte
Diana McFadden
Kim McGrath
Debra McLaughlin
Tom McNeer
Katy Merkt
Mindy Miller
Mary Mirenda
Terry Monfre
Bill Nawrocki
Sue Nicholas
Dennis Noonan
Patti Nordin
Will Olmsted

Mary Perreth
Chuck Perry
Kim Peterson
Scott Peterson
Lynn Pokwinski
Frank Powell
Andrea Price
Harry Profio
Jim Proft
Jean Rehberger
Paula Reichardt
Kathy Reinke
Susan Rice
Beth Rise
Jerry Roche
John Rogge
Tony Rondinelli
Mike Rose
Jaye Satre
Scott Schilling
Kent Schlienger
Linda Scheider
Brian Scott
Paul Seitz
Steve Shantz
Tod Shouse
Su Sievert
Dick Smith
Tom Smith
Paul Snyder
Mark Sommerfeld
Juliana Spring
Liz Squire
Dawn Stanley
Mike Strehlow
Timothy Strehlow
Jennifer Swain
Heidi Tank
Tom Taylor
Kelly Trettin
Patty Ulschmid
Gayle Brown
Bob Vaughn
Kelly Vetter
Roger Voltz
Ann Wagner
Matthew Wagner
Tom Walentoski
Tony Weber
Sue Weber
Debra Weir
Barb Weishaar
Mary Wittenberg
Jill Yentz
Julie Zanio
Paul Zehren
Janice Zempel