Google Group Email List - Tosaeast1976
We are utilizing the email feature of Google Groups to do our emailings. Those messages are archived on Google, but you need a Google ID in order to view them. If you don't wish to get one, no problem. We are archiving all the emails right here. Here are the messages we've sent in descending date sequence. Everyone who has given us an email is automatically added to this list. So if you haven't,
please send us your email.
If you're familiar with Google Groups, it's generally used as a forum for participants to email postings that are then seen by the entire group. However, we are simply using it for one-way messaging, mostly for important messages of interest to our class including future reunions and obituaries. Using Google Groups as an email server gives us the following: 1) It's free, 2) It hides the emails of the group, and 3) Allows for easy administration of the emails in a secure environment, and not on this website.
---
Happy 60th Birthday / Summerfest 2018 / Girls Night Out
06/16/2018
Happy Birthday, Class of '76!
Whether we like it or not, our classmates will soon or have already celebrated their 60th birthdays.

I've been using this image (both on the website and on our Facebook page) as a reminder to everyone that age is just a state of mind.
Tosa East Girls Night Out - June 28
Jean Kobin (Crabtree) is hosting a girls night out at her home in Cedarburg on Thursday, June 28th.

Time: 6:00-9:00/10:00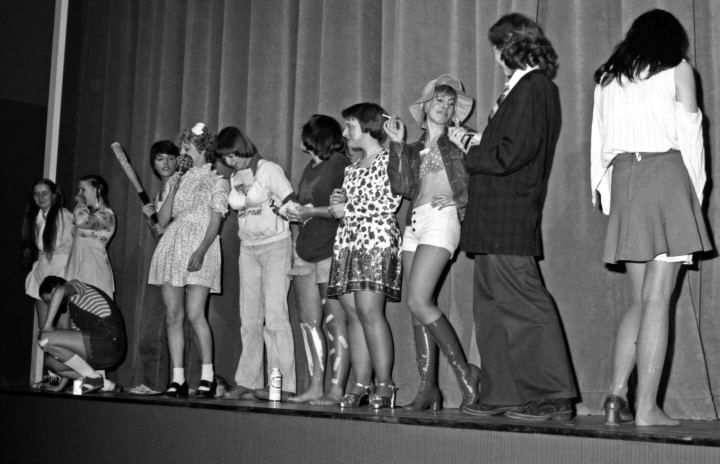 The picture above is from the Spring 1976 Talent Show. This was part of a skit put on by members of Red Arrow.
This will be outdoors, weather permitting. Bring a drink or appetizer.

RSVP to Jean Crabtree (Kobin) or Debbie Hetzel (Hanson) for additional details.
Summerfest 2018

Summerfest starts in less than 2 weeks! It has been a tradition over the last several years that we have an "unofficial" reunion sometime during the festival. We will having one on Friday, June 29th hosted by me and Debbie. We plan on being there fairly late so if you're working that day, stop out later!

Information for that day is located on our website at:
www.tosaeast1976.com/unofficial/upcoming.htm
You do not have to RSVP. This event is set and you can decide at the last moment. If you do come you probably should print out the map of the Summerfest grounds (if you're not familiar) as it shows the 3 meeting locations during the day. But more important is to have me or Debbie's cell phone. You can call or text us if you have difficulty finding us.
Gene Hanson 262-269-xxxx
Debbie Hetzel 920-723-xxxx
But we realize not everyone can make that date. There is no reason why we can't do more than one day if there's enough interest. Summerfest goes on for 10 days, but the two weekends are probably preferable. Simply send me an email at
genohanson@aol.com
if have a preference or a date you already know when you'd be there.
Class Obituaries

The very sad aspect of keeping you all informed is that from time to time I send out obituaries.

I hope everyone has noticed that you haven't heard from me in a while so from that aspect that makes me happy. But I need to point out that I don't spend time pouring over recent obituaries. When I do report a death it's almost always because fellow classmates have given me the heads up. So if you have any word that one of our classmates or faculty have passed away, please send me an email so I can then inform the entire class.

Gene Hanson
---